Australia agrees to compensate Manus Island detainees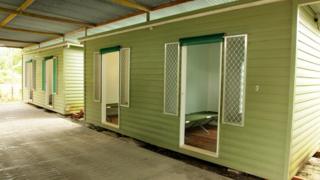 The Australian government has agreed to compensate 1,905 refugees it detained in Papua New Guinea under controversial asylum laws.
Australia turns away any refugees and asylum seekers trying to reach its territory by boat and sends them to centres in PNG and on Nauru.
The claimants said they suffered serious harm whilst being held on PNG's Manus Island between 2012 and 2016.
The claim was due to be heard in the Victoria Supreme Court on Wednesday.
But shortly before the trial began, lawyers for the claimants said the government and service providers had offered a last minute settlement.
The full details of the settlement and the financial package agreed are yet to be fully approved by the court.
What next for Manus Island asylum seekers?
Australia asylum: Why is it controversial?
Australia has already said it plans to close the Manus Island camp, but it remains unclear when that will happen.
It is also unclear what will happened to the remaining camp residents, but Australia has insisted that no-one held there will ever be re-settled in Australia.
The government says its policy on boat arrivals is intended to undermine the people-trafficking trade and prevent migrants from attempting the life-threatening journey to its shores.
But it has been heavily criticised both at home and internationally, including by the United Nations.