Newspaper headlines: Polling day papers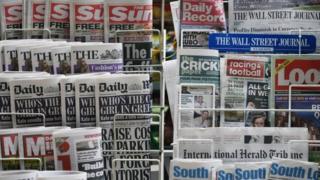 As voters go to the polls in local elections, the BBC, like other broadcasters, is restricted to reporting only factual accounts of voting in line with polling day rules. Here is a round-up of other stories.
The Daily Telegraph suggests that the UK's reputation for being somewhat fond of liquid refreshments may soon have to be retired, in the light of official statistics showing regular drinking is at its lowest level ever.
Young people are increasingly turning away from alcohol, and the number of people who identity as teetotal has risen.
The Sun focuses what it calls the "baby boozers", people aged 45 to 64 who, the stats show, are visiting hospital for alcohol-related reasons in record numbers.
In an editorial, the paper asks why taxpayers should have to foot the bill for the excesses of baby-boomers, suggesting they should be charged for emergency care.
Get news from the BBC in your inbox, each weekday morning
Hollywood actor Brad Pitt looks out from the front page of the Daily Mirror which, along with many of the other papers, carries a report on candid confessions made by the star in an interview with GQ magazine.
He expresses relief about giving up drinking and speaks of the toll it took on his marriage.
"I could drink a Russian under the table," Pitt remembers, and expresses relief that since giving up on his favourite tipple, wine, he can now feel the tips of his fingers.
He says stepping away from his lifestyle of professional drinking has made him aspire to be a better father.
---
The Guardian profiles a Chinese writer whose account of rural poverty and subsequent escape to Beijing has made her the country's hottest literary property.
Fan Yusu's account as life as a migrant worker was published online, read by more than one million people and then deleted – possibly, the paper speculates – because it touches on politically sensitive themes.
The Guardian reports that her overnight fame has led her to go into hiding to evade the hordes of journalists seeking an interview.
---
One might not imagine the Queen to be terribly au fait with some of the technological trappings of modern life – smart-phones, tablet computers, social media – but royal biographer Brian Hoey, writing in the Daily Mail, is happy to disabuse.
He discloses that the 91-year-old Queen is not only is a dab hand at texting, she also has her own, private Facebook account.
He writes that no one outside the Palace knows how many "friends" she has and that her phone is one of the most encrypted in the world.
The Queen's personal assistant keeps it fully charged for her, at all times.