London attack: Police 'know identities of killers'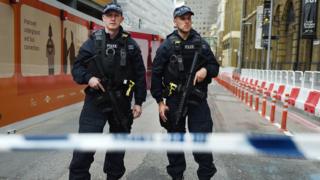 Police investigating Saturday night's terror attack in London say they know the identity of the three attackers who killed seven people and injured 48.
The Metropolitan Police said their names would be released "as soon as operationally possible".
A van hit pedestrians on London Bridge at 21:58 BST on Saturday before the men stabbed a number of people in Borough Market. They were shot dead by police.
The so-called Islamic State group has claimed responsibility for the attack.
Twelve people have been arrested in Barking, east London, after raids at a flat which is believed to be the home of one of the attackers. A 55-year-old man has since been released without charge.
Controlled explosions were carried out at the property in Barking during the raids on Sunday morning.
Meanwhile, the first victim of the attack has been named as Canadian national Chrissy Archibald.
A statement from her family said she "believed strongly that every person was to be valued and respected".
It added that Ms Archibald had worked in a homeless shelter until she moved to Europe to be with her fiancé.
It has also emerged that two people said they had warned the police about the behaviour of one of the attackers.
Speaking to the BBC's Asian Network, an unnamed man said one of the attackers had become more extreme over the past two years.
"We spoke about a particular attack that happened and like most radicals he had a justification for anything – everything and anything.
"And that day I realised that I need to contact the authorities," he said.
He said no action was taken.
"I did my bit… but the authorities didn't do their bit".
Metropolitan Police Assistant Commissioner Mark Rowley said 36 people were in hospital with a "range of injuries" and 21 were in a critical condition.
Four police officers who tried to stop the attack were among those injured, two of them seriously.
Australian Prime Minister Malcolm Turnbull has confirmed four of the country's nationals had been caught up in the attack.
Two, Candice Hedge from Brisbane and Andrew Morrison from Darwin, are among the injured after both were stabbed.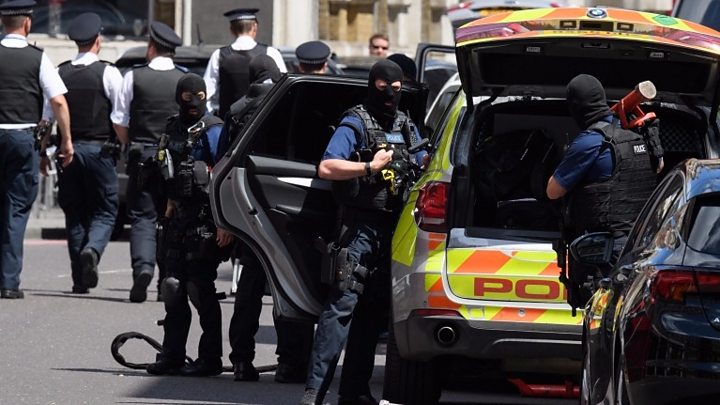 Among the other developments:
Prime Minister Theresa May will chair a meeting of the government's emergency committee Cobra on Monday morning
Both London Bridge rail and Tube stations will reopen on Monday from around 05:00 BST but the rail station will be exit only until at least 08:00 BST.
Police said the cordon in the area of the attack would remain in place "well into Monday" adding people would not be able to access their properties until it was lifted
There will be a minute's silence on Tuesday at 11:00 BST in remembrance of those who lost their lives and all others affected by the attacks
A French national was killed and seven others wounded, including four with serious injuries according to foreign minister Jean-Yves Le Drian. One French national is still missing
The Met Police has set up a casualty bureau on 0800 096 1233 and 020 7158 0197 for people concerned about friends or relatives
Eyewitnesses described a van travelling at high speed along London Bridge, hitting pedestrians, before crashing close to the Barrowboy and Banker pub.
The white Renault van used was recently hired by one of the attackers, Mr Rowley said.
It is the third terror attack in the UK in three months, following the car and knife attack on Westminster Bridge in March, in which five people were killed, and the Manchester bombing less than two weeks ago, in which 22 people were killed.
Theresa May condemned the attack after chairing a meeting of the Cobra committee. She said it was "time to say enough is enough" and end the UK's "tolerance" of extremism.
The prime minister said full campaigning would resume on Monday after most political parties suspended national general election campaigning.
She confirmed Thursday's election would go ahead as planned.
In a speech, Labour leader Jeremy Corbyn backed the police to use "whatever force is necessary" to save lives.
London Mayor Sadiq Khan said the capital remained the "safest global city" and would not be cowed by terrorism.
US President Donald Trump, who sparked an international row after seemingly misinterpreting Mr Khan's earlier comment that Londoners had "no reason to be alarmed", said on Sunday the killings were an "evil slaughter".
He added that the US would do everything it could to assist the UK to catch those responsible.
---
New normal: Dominic Casciani, BBC home affairs correspondent
With three attacks in three months, terrorism against soft targets is beginning to feel, to some people, like the new normal.
The brutal reality is that this kind of threat is absolutely typical of what jihadists sought to achieve in all their attacks across Europe.
Since 2013 security services in the UK have foiled 18 plots. A large proportion of those have involved suspects who set out to commit acts of violence similar to the attack on Westminster Bridge and London Bridge.
Plans to use bombs, such as at Manchester Arena, are rarer because plotters need to have the technical skills for such an appalling attack – but attacking people with cars and knives is far easier and has long been encouraged by so-called Islamic State and other jihadists.
The aim of the three attackers last night is abundantly clear – not only did they want to kill, but they wanted to lose their own lives.
They would've known full well that attacking people in the street would draw armed police in their direction and the fake bomb belts they were wearing would, in their own warped minds, hasten their demise.
---
Were you in the area? Have you seen what has happened? If you are willing to do so, share with us by emailing haveyoursay@bbc.co.uk.
Please include a contact number if you are willing to speak to a BBC journalist. You can also contact us in the following ways: