Dad guilty of shaking 15-week-old baby son to death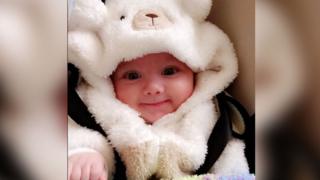 A father has been found guilty of manslaughter after shaking his 15-week-old baby to death.
Cody Rhys Williams-Jones died in December 2016 – it was later revealed he had suffered 13 broken ribs and a fractured shoulder.
Matthew Jones, 26, of Beaufort, Blaenau Gwent, claimed the injuries were caused when he accidentally dropped him.
A pathologist told Newport Crown Court Cody had so many haemorrhages in his eyes, it was impossible to count them.
Jones told the jury his son fell on to a mattress and bounced 2ft (0.6m) in the air.
During the trial, prosecutor Paul Lewis QC said: "The medical evidence is such that an accidental fall can be excluded.
"Cody's injuries were as a result of deliberate violence probably in the form of both shaking and impact."
Jones was found not guilty of murder.