US unveils new claims in 1MDB money laundering case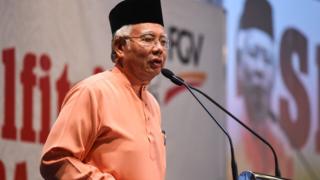 US authorities are moving to seize a Picasso painting, an apartment in Manhattan, and rights to a Jim Carrey movie as part of a global money laundering case.
The US alleges high-level officials stole more than $4.5bn from a Malaysian economic development fund.
The items in the latest filing were allegedly purchased using $850m diverted from the 1MDB fund in 2014.
The case has put pressure on Prime Minister Najib Razak.
Mr Razak, who oversaw the fund, allegedly received millions in stolen money, though he returned most of it. He denies wrongdoing.
"These cases involve billions of dollars that should have been used to help the people of Malaysia, but instead was used by a small number of individuals to fuel their astonishing greed," said Sandra Brown, an acting US attorney in California.
"We simply will not allow the United States to be a place where corrupt individuals can expect to hide assets and lavishly spend money that should be used for the benefit of citizens of other nations."
1MDB: The case that has riveted Malaysia
In Thursday's filing, the US Department of Justice says officials used money from the fund to pay gambling debts at Las Vegas casinos, fund Hollywood films and invest in Fly Wheel Sports.
The money was also used to pay for a diamond necklace for the wife of Malaysia official 1 – who has been revealed as Mr Razak – and to buy the Picasso still life, which was later given to actor Leonardo DiCaprio as a birthday gift, according to court papers.
Mr DiCaprio said last year he would cooperate with the investigation.